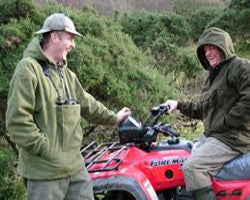 Nomad UK Hooded Quadrider
Designed following much demand specifically for use by a lowland gamekeeper on  a quad bike but equally as useful on the hill when stalking or Wildfowling on the Foreshore . Available in olive green, this product is easy to put on and take off with a long 'fish tail' cut at the back, providing extra protection.
Made in the infamous stealth waterproof breathable fleece renowned for its durability.
Features:
- Large commodious hood which will take a helmet and large woolly hat 
- Large single breast pocket for binoculars
- Two side pockets, sufficient for all needs.
---
We Also Recommend