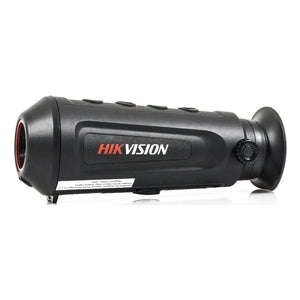 HikMicro Lynx Thermal Telescope
HIK Vision Lynx (was Vulkan) 15mm (384×288) Thermal Imager. 
This delivers a high-quality thermal image and packs a host of features normally reserved for high-end thermal spotters. The high resolution 384 x 288  17µm  thermal sensor and HIK software delivers a detailed image to the screen. The WiFi and dedicated app allows you to take complete control of the unit's settings and features from your smartphone.
IP67 rating guarantees a robust chassis capable of repelling dust and rain, protecting you from the worst of the weather.
This is all backed up by a 3 year UK warranty.
> HIK VISION THERMAL SENSOR
> T-VISION APP: Connect – Control – Stream
> HOT TRACK
Specifications
MAIN
Sensor 384×288px @ 17µm
Objective Lens 15 mm
Detection Range (Vehicle 1.4 x 4m) 1353 m
Detection Range (Human 1.8 x 0.5m) 441 m
SENSOR
Type Vanadium Oxide Uncooled Focal Plane Arrays
Resolution, pixels 384 × 288 px
Pixel pitch, µm 17µm
Frame rate, Hz 50 Hz
OPTICS
Objective lens F1.0
Magnification (Optical) 1x
Magnification (Digital) 1x, 2x, 4x,
Field of view 24.6° × 18.5° (H × V)
DISPLAY
Type 5.08mm, LCOS
Resolution, Pixels 720 × 540
Colour Palettes Black Hot, White Hot, Red Hot, Fusion
VIDEO & SOUND
Video Recorder YES
Sound Recorder NO
Build in memory, Gb 8 Gb
ADDITIONAL FEATURES
Hot Tracking YES
WiFI hot spot YES
T-Vision App support YES
ENVIRONMENTAL
Degree of protection, IP code IP67
Dust protection Protected against dust ingress
Water protection Protected against temporary submersion in water
Operating temperature range -20 °C to 55 °C
WEIGHT & SIZE
Dimensions, mm 161 mm × 61 mm × 57 mm
Weight, kg 0.27 kg
POWER SUPPLY
Operating time on battery
(WiFi & Hot tracking disabled) 7 hours continuous running
Charging interface USB-C
Battery capacity after 1000 cycles 80%
---
We Also Recommend