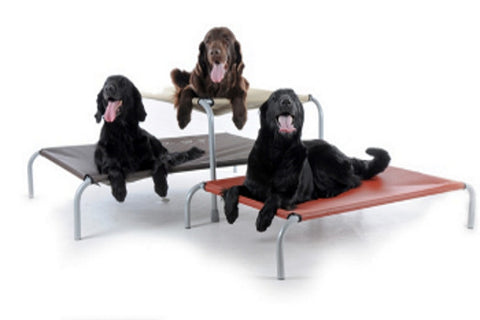 Hi-K9 Dog Bed
The original Hi-K9 dog beds are renowned for their comfort, being easy to clean and long lasting.
Simple in concept, yet extremely effective, these dog beds are made from a strong metal frame and have a fabric top. Having no sides allows your pet to stretch whilst relaxing or curl up as they choose. Being so easy to clean (by hosing, wiping down, machine washing or jet washing) infestations are deterred and the beds are kept fresh, eliminating smells.
The covers mould to your dogs body helping to get rid of unwanted pressure points and as air is allowed to circulated and condensation is not allowed to form, no damp bedding means that these beds are particularly beneficial to dogs that suffer from arthritis and joint problems.
The beds are fully collapsible making them great for transporting and the feet are protected by rubber ends to protect floors.
---
We Also Recommend